Monitor you home whilst your away using  IP Cameras and Live Cams for the iPhone.
As well as a Remote CCTV Monitoring Application this Iphone also have a list of run Webcams like the one below:-
Why not download "Live Cams" from the iPhone App Store today and you can continue to watching our live fish tank cameras whilst your on the move. You can also access many other live webcam feeds for FREE!
You can locate our Live Fish Aquarium webcams under the "Animals" category.
Also some webcams are now available in HD quality using the "Live Cams HD" App for the iPad
Please ensure you are aware of your fair data usage allowance from your mobile contract provider before streaming any video sources, including YouTube videos. Where possible always use a WIFI access point connection.
Click the icon below for our Live Fish Tank Aquarium webcams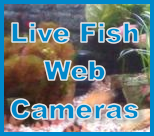 Click the icons below for for information about the Live Cams iPhone App